Diana, Hunter of Bus Drivers
Related Episode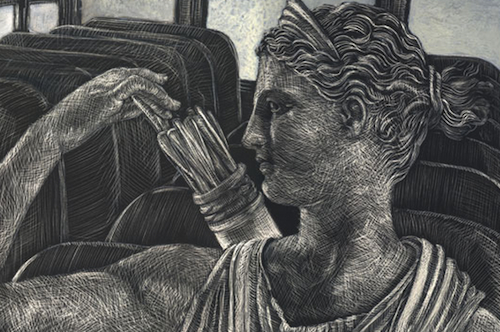 Above is a detail from a drawing that artist Alice Leora Briggs created to accompany a story from our recent episode Secret Identity. The story, by Yuri Herrera, begins in late August, when an unknown woman shot and killed two bus drivers in Ciudad Juarez, Mexico. Later, a mysterious email showed up at a local newspaper, claiming to be from someone called, "Diana, Hunter of Bus Drivers."
Related Episodes
You can zoom into the full version of the drawing, which we published alongside text of the story.
Briggs creates elaborate, chilling scenes from Juarez with a method called sgraffito. More of her work is at her website.